Bronze objects
Art ambience for your home - also as an exclusive and sophisticated gift with esprit. Or are you looking for representative, decorative art for the office/study?


You order on account or pay by PayPal and have an unlimited right of return for the museum reproductions within 30 days.
The exhibits are made of Keramin, a high-strength, expensive special plaster, which is often used in model making. Special productions are also possible. Please contact me (Peter Seitz, antike-repliken@gmx.de)

The bronze casting with lost as well as reusable form for small bronzes in full casting has been led to the highest development since the geometrical time in Greece in the 8th century BC. The use of hollow casting on large sculptures has been in use since the 6th century B.C. It was traced back by the Greeks to the ore founders Rhoikos and Theodoros from Samos.
Places like Olympia, Delos, Delphi, Corinth, Athens, Rhodes each had over 3,000 large bronze statues. The colossal statues were particularly impressive, such as the Colossus of Rhodes, which is one of the Seven Wonders of the World, created by Chares from Lindos in 285 BC, with an internal framework of iron and masonry, 37 m high. Even 2 m taller was the bronze colossus commissioned by Nero to represent the emperor. Hadrian had it brought to the amphitheatrium Flavium, which is why this entertainment site still bears his name today: Colosseum.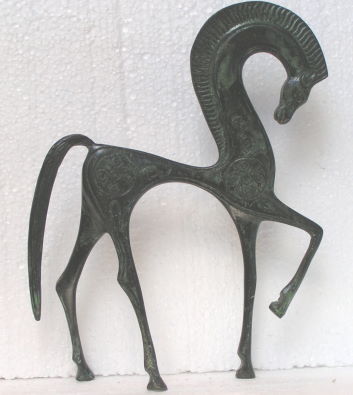 Show 1 to 32 (from a total of 32 products)